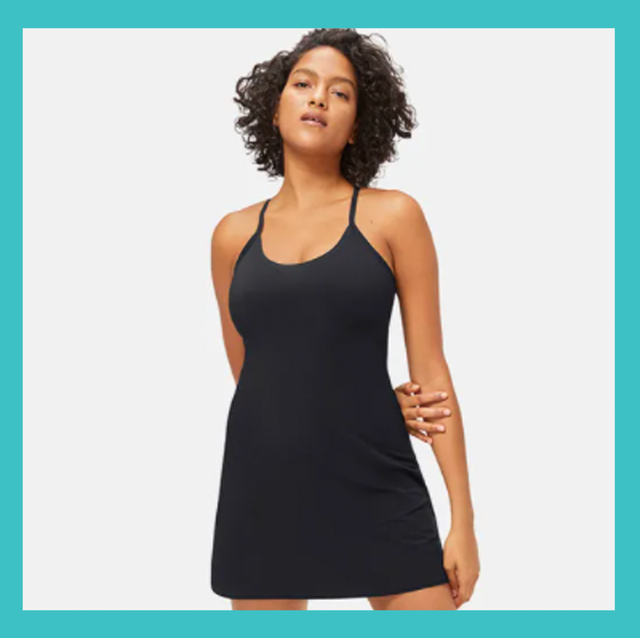 Courtesy
A year-plus of lockdowns and wearing exclusively elastic-waisted pants can really do a number on your fashion sense—but it's safe to say a lot of us (*raises hand*) have no interest in returning to too-tight jeans or stiff office slacks.
We've also forgotten how to wear uncomfortable shoes for style's sake, and don't even get me started on real bras. It's all kind of a trap, and now that the return to in-person work is here, we have two options: submit to the constrictions of our past professional wardrobes or curate a new capsule that looks like business casual but feels like your favorite lounge clothes.
That's where today's trendy athleisure wear comes into play, and we've scouted some of the best. Our favorite athleisure brands offer clothes to work in, workout in, and live in—prioritizing comfort and functionality above all. But that doesn't mean that you won't look great in them. From bum-shaping leggings to super-supportive sports bras and workout studio-to-work dresses, to sweatpants disguised as dress pants and blazers you'd swear were custom made, these brands are redefining the intersection of form and fashion for both women and men.
So get ready to bid adieu to the itchy, shapeless bottoms that you dread wearing from 9 to 5 and the blouses you can no longer bother buttoning—the rise of athleisure is here to stay, starting with the game-changing brands below.
Advertisement – Continue Reading Below
1
Zella
Live In High Waist Leggings
nordstrom.com
$29.50
Nordstrom-made brand Zella combines approachable prices with performance technology for a supportive experience, featured in pieces like these high-waisted, bum-sculpting leggings or an always-there-for-you bra. Whether you're looking for a casual pair of joggers or a wrap jacket that transitions easily from day to night, the selection at Zella is robust and capable of serving both athletic and everyday needs.
2
Athleta
Interstellar Blazer
athleta.gap.com
$74.97
Not only does Athleta offer some of the best performing athletic wear for your most demanding workouts, it also carries beautiful and functional pieces for your busiest work days. Who knew you could find a blazer from an athletic company? There's also a transitional dress and trendy wide leg trousers. Athleta really has it all for a full look.
3
Alo Yoga
Ambience Short
aloyoga.com
$72.00
Your most divine yoga practice requires divine comfort, and that's really where Alo delivers. Fabulous prints are combined with fantastic stretch for men and women's clothes alike. We particularly love the Ambience Short with its stretchy bottom and movable micro mesh top.
4
Lululemon
Align High Rise Pant with Pockets
lululemon.com
$128.00
If  there was ever a brand that challenged the difference between leggings and pants, it's Lululemon. There's a reason that athleisure is oftentimes synonymous with the company. We love the Align High Rise Tight with the added benefit of pockets, buttery fabric, unique colorways, and lengthening effect. Bonus: Tailoring comes for free with any clothing purchase—just let the store know what doesn't fit and they'll make the requisite changes for you to pick up within a few days time.
5
Alala
Maui Jumpsuit
revolve.com
$195.00
Designed by women for women, Alala understands exactly what the working woman wants from athleisure. High-quality fabrics like beautiful french terry cloth are combined with sophisticated designs, which makes for a collection that you could wear to the office, at home, or on an adventure hike. Check out the Maui Jumpsuit for the pinnacle of comfort and class.
6
Nathan
Versa Long Sleeve Shirt
nathansports.com
$65.00
Nathan makes apparel for runners, which means its collection of tops and bottoms are designed to be comfy while you're on the move. The tops specifically are perfect for transitioning from the treadmill to work, especially the boxy Versa long sleeve shirt.
7
Allbirds
Tree Breezers
allbirds.com
$95.00
Allbirds introduced many to the concept of wool sneakers and have since convinced plenty that there is no better footwear material. The brand is here to prove that athleisure isn't just relegated to shirts and pants, and its fabulous Tree Breezers are great for transitioning from street to office style. Of course, the brand also has beautiful unisex tops and bottoms, including the TrinoXO classic fit tee that makes for an easy, relaxed look.
8
Vuori
Pocket Performance Joggers
nordstrom.com
$84.00
Vuori activewear is a joy to wear and a joy to behold, thanks to its rich colors, luxurious fabrics, and modern design. Its signature joggers are a wardrobe staple, but so too are their performance tights and tops. The brand's men's shirts are also available in a range of beautiful tones to help dress up his athleisure game. 
9
Champion
Cropped Cut Off Crew
amazon.com
$55.00
Comfortable and timeless, Champion has a shirt, sweatshirt, or pair of pants for any occasion. The Reverse Weave Cropped Cut-Off Crew is the perfect length to throw over a workout top for a post-run errand, or a tucked in camisole for a more work-appropriate look.
10
Public Rec
All Day Jogger
publicrec.com
$98.00
It's a good thing that Public Rec finally started making women's apparel. Now you can finally stop stealing your partner's joggers—the most comfortable pair of pants you both ever owned—and get some of the brand's staple basics of your own. We recommend beginning with the essential tee and all day jacket.
11
Outdoor Voices
The Exercise Dress
outdoorvoices.com
$100.00
When Outdoor Voices burst onto the scene with its color-blocked tights, they quickly became one of the most recognizable brands in the athleisure space. Now, the brand makes both men's and women's performance wear in a wide range of styles. Check out the best-selling Exercise Dress that features a built-in shorts liner with a phone pocket.
12
Janji
Groundwork Pace Short
janji.com
$60.00
This Boston-based athleisure line was founded with runners and the planet in mind, and makes practical, stylish clothing—like these awesome bike shorts—for both men and women. Janji collections are designed based on research that takes into account the geography and culture of their partners including Haiti, Rwanda, Peru, Tanzania, and Kenya. It also partners with a local nonprofit to work toward clean water solutions that combat the global water crisis.
13
Patagonia
Micro Puff Jacket
patagonia.com
$249.00
Designed around adventure and the environment, Patagonia has become synonymous with the great outdoors thanks to its focus on sustainability. The Mico Puff Jacket is one of the best pieces of outerwear you'll come across both in terms of its portability and insulation.
14
Duer
Four Way Flex High Rise Skinny
shopduer.com
$119.00
Duer takes denim to a whole new level. Made to be performance bottoms, Duer pants (including joggers and jeans) are athleisure without looking like it. While you may not think of jeans as loungewear, this brand changes that misconception with a pair like the high rise skinny jean with four way flex.
15
Luminora
Portofino Bathing Suit
luminora.com
$99.00
Luminora makes chic UV protective clothing—including swimwear and activewear—for your adventurous outdoor lifestyle. (But please still wear sunscreen!) The clothes are also anti-microbial to help you stay outside longer without having to worry about smells or bacterial buildup.
16
Sweaty Betty
Flash Dance Cotton Sweater
sweatybetty.com
$148.00
17
Nike
Alpha Sports Bra
nordstrom.com
$55.00
Whether you're looking for a pair of joggers, a HIIT-ready sports bra (like the Alpha sports bra), or a pair of runners, you'll find everything you need and more from Nike. The brand has become a staple for its workout-ready clothes that can double as nighttime attire, and each season brings new designs and styles that keep your closet fresh and workouts comfortable.
18
Girlfriend Collective
Dylan Longline Racerback Sports Bra
nordstrom.com
$38.00
Girlfriend Collective became popular by making tights out of recycled water bottles. Today, however, it's known for a lot more—namely the brand's insanely comfortable (and flattering) lineup of tights, sports bras, and tops. If you're looking for a sports bra that could double as a top (perhaps for a pair of high-rise pants), the Dylan Longline Racerback Bra could be a perfect fit.
19
Title Nine
Crusher Dress
titlenine.com
$90.00
Woman-run and woman-owned Title Nine has been around since 1989 and has a dedicated following of outdoor and athletic enthusiasts. The brand makes beautiful clothes that work for both the office and exercise, including activewear dresses like the Crusher Dress with built-in pockets. Throw on a blazer and a pair of sneakers and you have a complete outfit.
20
Mono B
Athena Denim Jacket
mymonob.com
$47.00
Mono B is a purveyor of comfortable and chic athleisure. The brand often partners with like-minded organizations such as GirlTrek, the largest public health and self-care movement for Black women. Of all their striking pieces, the Athena Denim Jacket stands out as comfortable without compromising style.
21
Proud
Be Passionate Tank
wearproud.com
$48.00
Founded by Iranian immigrant Ehsan Rezvan, Proud is a small business that has made it big thanks to its dedicated celebrity following. Creating beautiful, functional clothes such as this asymmetrical tank and this bomber for a community of like-minded folks, Proud donates 10% of gross sales (pre-tax) directly to its non-profit partners as part of its goal to give $10 million over the next five years.
This content is created and maintained by a third party, and imported onto this page to help users provide their email addresses. You may be able to find more information about this and similar content at piano.io
Advertisement – Continue Reading Below